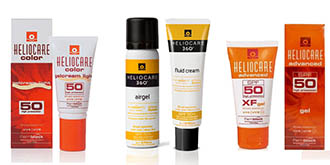 The Heliocare® ranges are clinically proven to protect your skin against daily environmental challenges and help to prevent the signs of ageing. Each product provides high-level broad spectrum UVA and UVB protection and contains Fernblock®.
The creams and gels provide a light silky layer of protection that feel luxurious and have a pleasant subtle fragrance unlike the chemical smell of most sunscreens.

Therapeutic
Fernblock® harnesses a powerful natural skin-specific anti-oxidant and skin-protector and enhancer helping in the fight against UV damage whilst moisturising the skin.

Maintenance
Patented Fernblock® is extracted from Polypodium leucotomos, a fern originating in Central America for its natural protective mechanism against UV radiation.

Daily Skincare
Heliocare's Color range adds to the UVA, UVB and anti-oxidant skin-protection by enhancing your skin's colour, tone and moisture. So it protects your skin as well as acting as a foundation and concealer for easy, everyday use.

Prevention
Heliocare® 360° provides enhanced protection and prevention and is therefore ideal for those at higher risk of photo-damage such as those who spend more time outdoors, or those with fairer skin.
Advanced Therapeutic Solutions
| | |
| --- | --- |
| | Protect your skin from UV and ageing damage with the clinically proven Heliocare range of products that harness the natural power of Fernblock® technology to offer superior UVA and UVB protection all day long. |
| | Within a Skin Consultation at the Mayfair Practice we can assess your skin and create a responsive skincare regime to tackle signs of ageing, damage and promote skin health. |
| | Book your 30 minute Skin Consultation and let the journey begin |
| | £50 deposit required to secure your appointment, fully redeemable against any treatment or skincare product. |
/skin-care/mesoestetic/
/skin-care/environ/
Where to Find Us
We are discreetly located in Mayfair, with Bond Street and Marble Arch Tube stations only a few minutes walk. Nestled between Selfridges and Grosvenor Square, we are neighbours to Harley Street's Private Medical District.
Opening Times
Monday 10:00 - 18:00
Tuesday 10:00 - 18:00
Wednesday 10:00 - 18:00
Thursday 10:00 - 18:00
Friday 10:00 - 18:00
Saturday Closed
Sunday Closed

Book an Appointment
Please reach out by phone or email and we look forward to welcoming you to the clinic to assist in any medical or aesthetic need you may have.