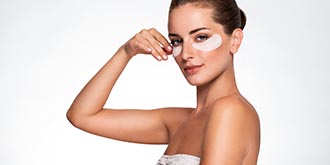 Over time we produce less Hyaluronic Acid (HA) which causes our skin to lose its natural elasticity, hydration and support.
Radara is an anti-ageing regimen using unique micro-channelling patches and high purity HA serum to repair, rejuvenate and replenish the eye area, diminishing wrinkles and restoring skin quality for a radiant, refreshed appearance.

Therapeutic
Radara is as a one-month regimen, intended to be used once daily from the comfort and privacy of your own home to help diminish fine lines around the eye area.
Maintenance
The Radara skincare regimen consists of rejuvenating micro-channelling patches & a high purity, specially formulated hyaluronic acid (HA) serum in a separate pump.
Daily Skincare
The specially-formulated HA serum can now reach the deeper skin layers where it restores the skin's natural elasticity, hydration and support.

Prevention
Results can be noticed from two weeks, and at four weeks wrinkles are reduced with skin feeling noticeably smoother and firmer. Skin quality is boosted by restored elasticity, hydration and support, with a radiant, refreshed and luminous appearance.
Advanced Therapeutic Solutions
| | |
| --- | --- |
| | The unique Radara patches create thousands of 'microchannels' through the skin barrier, allowing potent HA to reach deeper layers of the skin. Perfect choice for at home anti-ageing. |
| | Within a Skin Consultation at the Mayfair Practice we can assess your skin and create a responsive skincare regime to tackle signs of ageing, damage and promote skin health. |
| | Book your 30 minute Skin Consultation and let the journey begin |
| | £50 deposit required to secure your appointment, fully redeemable against any treatment or skincare product. |
/skin-care/environ/
/skin-care/oxygenetix/