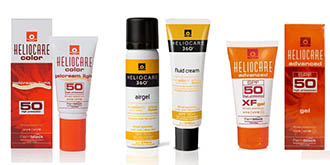 The Heliocare® ranges are clinically proven to protect your skin against daily environmental challenges and help to prevent the signs of ageing. Each product provides high-level broad spectrum UVA and UVB protection and contains Fernblock®.
The creams and gels provide a light silky layer of protection that feel luxurious and have a pleasant subtle fragrance unlike the chemical smell of most sunscreens.

Therapeutic
Fernblock® harnesses a powerful natural skin-specific anti-oxidant and skin-protector and enhancer helping in the fight against UV damage whilst moisturising the skin.
Maintenance
Patented Fernblock® is extracted from Polypodium leucotomos, a fern originating in Central America for its natural protective mechanism against UV radiation.
Daily Skincare
Heliocare's Color range adds to the UVA, UVB and anti-oxidant skin-protection by enhancing your skin's colour, tone and moisture. So it protects your skin as well as acting as a foundation and concealer for easy, everyday use.

Prevention
Heliocare® 360° provides enhanced protection and prevention and is therefore ideal for those at higher risk of photo-damage such as those who spend more time outdoors, or those with fairer skin.
Advanced Therapeutic Solutions
| | |
| --- | --- |
| | Protect your skin from UV and ageing damage with the clinically proven Heliocare range of products that harness the natural power of Fernblock® technology to offer superior UVA and UVB protection all day long. |
| | Within a Skin Consultation at the Mayfair Practice we can assess your skin and create a responsive skincare regime to tackle signs of ageing, damage and promote skin health. |
| | Book your 30 minute Skin Consultation and let the journey begin |
| | £50 deposit required to secure your appointment, fully redeemable against any treatment or skincare product. |
/skin-care/mesoestetic/
/skin-care/environ/